You're Invited to an Exclusive Mastermind Test Drive...
"Mastermind with fellow Entrepreneurs and Founders like yourself and grow your business TODAY"
Listen, it's lonely at the top...
As an entrepreneur, who do you turn to for candid feedback, input, and from-the-trenches, been-there-done-that advice?
Who do you share your honest challenges with, ask for help, and celebrate success with?
With a Mastermind, you establish your virtual Advisory Board and connect with other Entrepreneurs and Founders like yourself... with businesses like yours... to grow your business TODAY.
Your Mastermind isn't made up of your customers, investors, family or employees…
Your fellow Mastermind members are there for you to bounce ideas around in a safe environment and leverage the collective successes, failures, insights, and wisdom of others.
Imagine... having a laboratory of scientists working on variations of your business... making mistakes... writing down their lessons learned... and then sharing their findings with you every month.
Perhaps one member tries out a new marketing campaign and it ended up being a huge waste of money. Boom. Lessons learned.
Another member changes their hiring process and increases the quality of their team with more A Players than ever. Boom. Now, integrate their hiring process in your business.
Another member makes a few small changes to their landing page and increases conversion. Boom. Copy what worked. Avoid what didn't.
Another member hires a new CPA and changes how they run their financials, saving money, increasing cashflow, and improving their valuation. Boom. Implement their best practices.
This is why Andrew Carnegie - the titan of American steel and one of the richest people and Americans ever - said:
"Well, if you want to know how I got my money… We have here in this business a master mind. It is not my mind, and it is not the mind of any other man on my staff, but the sum total of all these minds that I have gathered around me that constitute a master mind in the steel business… I need these men and they know that they need me in the maintenance of this master mind that is necessary in carrying on."

Andrew Carnegie
At the Bay Area Mastermind®, we carry on this Master Mind tradition with monthly closed door meetings where select local business owners and entrepreneurs meet and share what's working, what's NOT working, and where they need help.
Members "open their kimono" and share the real live numbers in their business... resources... their secret vendors... the books they're reading that are making the biggest impact... and more.
In addition, we often have guest experts join us and share their deep knowledge on subjects ranging from copywriting to exit strategies to business systems and beyond.
These speakers are typically published authors, thought leaders, and masters in their field, and not only join us to share their expertise... but to answer your live questions when you're in the room with us.
And if that wasn't powerful enough...
Our years of guest expert presentations are then preserved and made available in our private Mastermind Members Only vault - a Mastermind University, if you will - so that all of our members can benefit, not just from upcoming speakers, but from ALL of our past speakers, too…
Imagine facing a challenge in your business, and instantly having access to the best of the best on financing, operations, impact, sales, marketing, and more….
It's all right there for our members in our Members Only vault.
THAT's powerful...
So how do you gain access to the Bay Area Mastermind?
Our group isn't for everyone. In fact, it's not for most folks.
Here's why…
We're looking for members who not only can GET value from the group, but can GIVE value, too.
Our group is only as strong as its members, and part of our job is to cherry pick the strong prospective members from those that wouldn't be a good fit.
Our members all have revenue producing businesses, so... if you're still in the ideation phase, or still working a full time nine to five with dreams of starting a business, we applaud you... and we'll be here in the future... but now's not the right time for you to join the Bay Area Mastermind.
It's okay if you sell your business or start a new company as a member of the Mastermind. In fact, most all of our members are serial entrepreneurs doing just that.
But even if you just have one business, what keeps us all connected is that we're focused on growing businesses together in the Mastermind.
For example, one of our long time members Logan shared that the Bay Area Mastermind has been a large part in growing his online business from making a couple hundred dollars a month into being a seven - going on eight - figure business.
Yeah, eight figures. As in over ten million a year in revenue. Not bad for growth.
Our members invest in themselves and their businesses. While many of us are leaders in our field, published authors, and experts at what we do, we're all also avid students of life.
We actively buy and voraciously read books.
We register for and actively attend live events.
We pay for access to experts so that we can work smarter.
We invest in our teams and value A Players.
We budget both time and money to work ON our businesses instead of just IN our businesses.
If this sounds like you, then our Mastermind might be a fit for you, but there's only one way to find out.
Complete a Bay Area Mastermind application, hop on the phone with us to discuss your application, and then invest in a full day Mastermind meeting with us.
After the meeting, if you feel the Mastermind is a good fit for you - and our members feel that you're a good fit for the group - we may extend you an invitation to become a full fledged Bay Area Mastermind member with access to our monthly meetings, our between meetings Members Only email list, and our online Members Only Vault.
So what can you expect when you join us for a full day closed door mastermind meeting?
Your day begins by taking the elevator up to the very top floor of Silicon Valley's private Members Only Capital Club where the smell of fresh roasted coffee awaits you in the morning.
You'll head down the hall to the Club's exclusive Members Only Boardroom with views out across the city all the way to the Santa Cruz mountains.
After introductions and networking with your peers, each member has an allotted slot to focus on them and their business, and during your day with us, you'll get one of these Member Slots, too.
During each member slot, members will share what's working, what's NOT working, and where they need help.
This is your opportunity to get help where you need it most right NOW in your business. It's also your opportunity to help fellow business owners with your personal experience and expertise.
This is a time to share your success with like-minded individuals who "get it" and see the "behind the curtain" numbers of real businesses and in-the-field marketing campaigns.
It typically surprises our guests how transparent we are during these sessions; but not to worry, we have a strict confidentiality agreement to promote open-book collaboration.
Late morning, our guest speaker typically joins us to share in an interactive presentation their area of deep expertise. We leave time for ample Q&A with the speaker and then head into lunch.
Lunch is prepared to order by the Club's executive chef and served in room for our Mastermind to enjoy while working.
We continue the rest of the day with additional Member Slots and wrap up before 5pm with our ACTION Items.
This is where we commit to what each member will get done over the next month so we can hold each other accountable.
These Action Items and Resources are then sent out to the group on the Mastermind Members Only email list.
If that wasn't enough value, after the meeting, Members are welcome to stay a little longer in the Club's lounge for complimentary hors d'oeuvres and networking with not just fellow Bay Area Mastermind members, but fellow Club members, too.
By taking part in our Mastermind… You'll be following in the footsteps of Andrew Carnegie, Thomas Edison, Henry Ford and past titans of industry…
But don't just take my word for it…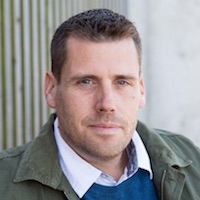 Ryan shared that joining the Bay Area Mastermind was one of the best things he did for himself and his business. He saw his business grow by 60%, but more importantly... his profits grew by 400%. Boom!
Ryan then went on to a seven figure exit... and took the family on a year long road trip before settling down and launching his next businesses.
Do you think he could have done that learning everything the hard way on his own?
Or how about Mikey?
Mikey shared how joining the Bay Area Mastermind has shaped the success of his company. In his words "Come check us out to see if you're a good fit. It'll take some work, you're going to be held accountable, you're going to be challenged with new ideas, and you're going to be asked "Why?" - a lot. It's going to be a challenge but... you're going to grow."
Are YOU ready for the challenge? Are YOU ready to grow?
Submit your Mastermind Application today to see if you qualify to join us for a full day closed door Mastermind.
Some questions might make you a little uncomfortable and that's okay. Our Mastermind isn't for everyone - and that's a good thing for our members!
Our next meeting is coming up fast, so don't miss your chance to join us for success NOW.
At the Mastermind, we're proud to be implementers who take ACTION as we believe in Action and Success in the now.
How about you?
Let's start your application right NOW... and we'll see YOU... at the top.
Start Your Mastermind Application Today
Ready to see if the Mastermind is right for you? Start your application today. After submitting your application, we'll get a brief call scheduled to discuss and cover any follow up questions that you or we may have. If all looks good, we'll discuss options for trying out the Mastermind for a day!
We value your privacy and would never spam you
Don't Just Take Our Word For It...
Hey! Thanks for the great idea yesterday; I was testing the my new $10k program price point today and you were right!

Manuel Fabriquer, President College Planning ABC
I'm not a doctor or anything, but there is a very high probability that Jeremy is a marketing genius. I highly recommend that you listen to everything he has to say, whether it's through his newsletters, membership groups, or direct consulting.


Cory Fossum, Principal Fossum Creative
Joining the Bay Area Mastermind is one of the best things I have done for myself and for my business.  The one day a month completely recharges my entrepreneurial juices and I have a virtual advisory board available by email for the in between time.   I take away so much actionable information that I regularly apply to my business. As a result my business has grown by 60% and profits have grown by 400% since I joined.

Ryan Crownholm

Hauling Pros
The Bay Area Mastermind has been a large part in growing my online business from making a couple hundred dollars a month into being a seven going on eight figure business. Just the other meeting I got a small design tip (that I never would have thought of myself) that instantly boosted conversions.

Logan Christopher

Legendary Strength
Joining the Bay Area Mastermind has really shaped the success of my company. I've had a lot of breakthroughs, challenges, and ideas that have led to major success, all stemming from this group of amazing people. Come check us out to see if you're a good fit. It'll take some work, you're going to be held accountable, you're going to be challenged with new ideas, and you're going to be asked "Why?" It's going to be a challenge but… you're going to grow.

Mikey Farrell
Frequently Asked Questions
Where Does the Mastermind Meet?
The Bay Area Mastermind meets in person in downtown San Jose for the day. (If you're unable to join in person, a Zoom link is available to join us virtually.)
When Does the Mastermind Meet?
Our Mastermind Groups meet once a month for a day of working ON your business instead of IN your business.
How Big Does My Business Need to Be?
Your business should be established and generating revenue.
What Kind of Businesses are in the Group?
The Bay Area Mastermind is comprised of business owners, founders, and entrepreneurs. On average, our members have been running their own business for 16 years, have 7 team members and are tracking $1-5 million in annual revenue. Almost all members sell products online, and about half of our members have physical offices, storefronts, or shops.
How Much Does a Mastermind Membership Cost?
Memberships start at $6,970/year for a single member or $8,970 for two partners in the same business.
How Much Does it Cost to Test Drive the Mastermind?
Test-Driving the Mastermind for a full day is only $297 $249 one-time.
How do I know if the Mastermind is for Me?
Join us for a test drive!