Where do San Jose business owners, founders, and entrepreneurs go for a local San Jose Mastermind Group?
Utilize the wisdom of the Giants of old like Andrew Carnegie, Henry Ford, Thomas Edison, Franklin D. Roosevelt and Ben Franklin and harness the power of your own personal "Brain Trust".
~ Your Personal Invitation to Test Drive a Mastermind Day ~
It's lonely at the top; Establish your Advisory Board and Connect with other Bay Area Entrepreneurs like yourself with businesses like yours and grow your business TODAY
Connect with a "hidden-agenda free" Advisory Board where you can bounce ideas around in a safe environment and leverage the collective successes, failures, insights, and wisdom of other like minded individuals.
Analyze the record of any man who has accumulated a great fortune, and many of those who have accumulated modest fortunes, and you will find that they have either consciously, or unconsciously employed the "Master Mind" principle.

Napoleon Hill
What Can a Mastermind Do For You?
Bay Area Business Owners
Harness the power of the Mastermind to learn from fellow Silicon Valley area business owners. Find out what's working, what's not, and share where you need help. The mastermind is here for you.
Featured Guest Experts
When it's time to bring in an expert to share their insights on a topic that we can all learn from, we invite them to join us at a Mastermind meeting. Topics cover marketing, automation, economic analysis, exit strategies, wealth management, business needs, and more.
Leverage The Mastermind
Leverage the time, experience, mistakes and successes of your fellow Mastermind Members as members are constantly testing and experimenting and sharing what works, what didn't, and what lessons were learned.
Want to know what to expect during your Test Drive?
Well, if you want to know how I got my money… We have here in this business a master mind. It is not my mind, and it is not the mind of any other man on my staff, but the sum total of all these minds that I have gathered around me that constitute a master mind in the steel business… I need these men and they know that they need me in the maintenance of this master mind that is necessary in carrying on.

Andrew Carnegie
Interested in seeing if the Bay Area Mastermind would be a good fit for your business?
Want to find out what tactics successful local business owners are using to elevate their business to the next level, what huge mistakes they've made that you'll want to avoid, and what you can be doing in your business to reach your goals this week, this month and this year?
You Are Invited…
You're Invited to Join Us for a Full-Day Closed Door Mastermind Meeting of networking, learning, sharing and growing.
What You Can Expect During Your Test Drive
When you join us for a full day closed door mastermind meeting, you can expect to:
Meet and connect with other local business owners and entrepreneurs
Share your success with like-minded individuals who "get it"
Find out what's NOT working or is no longer working in the market
See the "behind the curtain" numbers of real in-the-field marketing campaigns
Get the help you need right NOW in your business
Follow in the footsteps of Andrew Carnegie, Thomas Edison, Henry Ford and past titans of industry…
Don't Just Take Our Word For It…
"Navigating through the struggles of a small business owner is an extremely daunting task. Especially when you know the success of your company relies solely on you. Prior to joining the Bay Area Mastermind group, my Father and I struggled to determine the next major step to better our business. Smothered by the countless amount of issues at hand, we had little idea of what to focus on. After becoming a part of this team, the unique experiences of every individual have helped guide me to take that next step."
Jake Nguyễn
The Flying Locksmiths of San Jose
"I joined Bay Area Mastermind after attending other mastermind groups and it was hands down the best business decision I have ever made.
My company went from team of 1 (me) to team of 7, and we 4x'd our revenue.
Also, I'm looking forward to the meetings every month. The level of conversations in the group is high, compared to other groups where people talk about technicalities or working in the business, we talk about working on the business, about growing the business, which is a big deal.
I actually wasn't sure about joining because the website wasn't great, the name "Bay Area Mastermind" sounded fishy and I didn't want to waste my time and money. What convinced me to join was the fact that the average revenue of the group was 750k and I could try it out for one day.
I thought to myself, if it's even just ½ of that, that would be great.
It turned out to be higher than advertised, actually.
I joined a few years ago and since then our business grew 4x and it's growing fast now.
The group used to be one of my biggest expenses, now we spend more on testing and marketing every week. And I can honestly say that a lot of changes we've made originated in the group. And that's the biggest thing the group helps with – is finding out about problems you don't even know you have or will soon have. How do you do something well – if you've never done it before?
We call it seeing around the corners. Talking to people who's hindsight is your foresight. Getting feedback from people who have done what you need to do and know exactly what to look out for, how to not make mistakes that you would naturally make, as a first-timer. This way you get 80% of the problems solved before they arise, and you cut your learning curve by months.
The group is great for asking questions about operations, hiring, funnels, finances, getting directed to useful resources, basically everything to grow your business.
Jeremy always helps catch and analyze mistakes, track progress, figure out what to do next, what to prioritize. The group is very friendly, people help each other out, there is no information hogging.
If you are serious about your business and want to grow, learn and improve, it's a no-brainer.
The biggest thing I regret is that I didn't sign up 2 years earlier because I didn't even realize how much I was missing and wasn't aware of. If you want to grow and 4X your revenue, you should sign up immediately. I would come in, and leave the meeting with the list of 3 key action items to double your business in the next 90 days."
Amadeus Ciok
Learn Vibrant
"The Bay Area Mastermind has been a great experience for me as a current member. The group has provided me with invaluable insights into various business operations and helped me to gain a better perspective on working on my business, rather than in it.
One of the things I appreciate most about the group is the diverse range of businesses that get shared and covered. This has enabled me to gain a broad understanding of different industries and has provided me with the tools to develop and grow my own business.
Furthermore, the other members of the group have been a valuable asset. Everyone brings their own unique perspectives and experiences, which have helped me to gain new insights and ideas. Jeremy, the leader of the group, has done an incredible job of keeping us challenged and encouraged, ensuring that we continue to grow and develop.
I highly recommend Bay Area Mastermind to anyone who is looking for a supportive and challenging group of like-minded business owners. The group has been a tremendous asset to me, and I'm confident that others will find it just as valuable."
Bronwyn
"As the creator of an online education business, Making Art Making Money, I was too often alone in figuring out how to scale my business. Sharing other aspiring entrepreneurs' successes and struggles is inspiring and motivating. Even though we have very different enterprises, we often share similar challenges. Now I'm not alone, and I've gained the helpful guidance of Jeremy and my other mastermind partners. Spending one day a month with them forces me to work on my business instead of always in my business. It's so valuable to step away and gain renewed perspective and focus each month."
Ann Rea
Making Art Making Money
"Joining the Bay Area Mastermind is one of the best things I have done for myself and for my business. The one day a month completely recharges my entrepreneurial juices and I have a virtual advisory board available by email for the in between time. I take away so much actionable information that I regularly apply to my business. As a result my business has grown by 60% and profits have grown by 400% since I joined."
Ryan Crownholm
Author, Investor, Founder
This Bay Area Mastermind has been of incredible value for me. Having the perspectives of other smart entrepreneurs has helped me move my business forward way faster that if I was doing it just by myself.

Jeremy has so much experience facilitating masterminds and the wisdom and care he brings to his mastermind facilitation make make our meetings 100x better. Another great perk is that our monthly meeting venue – a private members only club – is an amazing place to be. Even though we're working hard, our meetings are so enjoyable because of who we are with and where we are.

Eduardo DeSanto
Ready to Join Us for a Mastermind Test-Drive?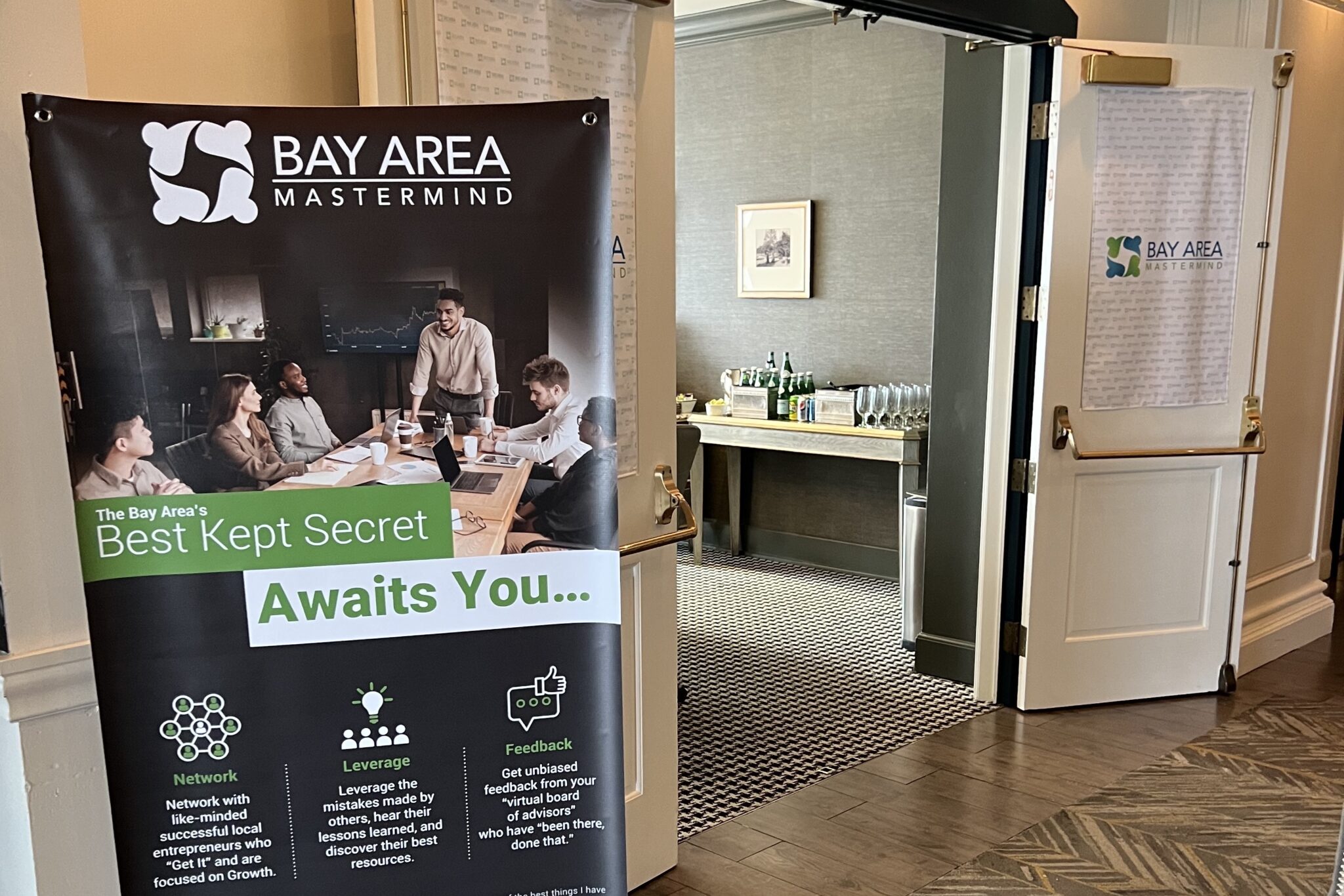 San Jose Mastermind Group Frequently Asked Questions
When is the next Mastermind Event?
See our full calendar above. Our next full day Mastermind is coming up on Tuesday, December 19th, 2023 in San Jose.
Would I be a good fit for a Mastermind?
Find out more about the Bay Area Mastermind and apply to our Mastermind to see if you qualify.
Where can I find a Mastermind group?
Looking for a nearby Mastermind group? You found it here at the Bay Area Mastermind. See above for upcoming mastermind events.
Is there a mastermind events near me?
Yes! You can find a Mastermind near you. Our mastermind meets in person once a month. If you're too far from a physical meeting, you can also connect in by Zoom.
Do Mastermind members connect in person?
Yes! Our Mastermind meets in person once a month for a full day of working ON your business.
Are there discussions covering business?
Yes! Our Mastermind is exclusively for business owners, founders, and entrepreneurs. Topics do cover both members' personal and professional lives, but everyone is a business owner focused on scaling their business.
San Jose, CA Mastermind Group Meeting Location
Find out more about our San Jose area business mastermind group location and how to get to the meeting on our Mastermind Travel page.
Given the number of members we have in the San Jose area, you'll likely even find other San Jose founders to connect with between meetings, too!